SIS – the Student Information System is used by Charles University as a system for students and professors for timetables classes, registering for courses, signing up for exams, submitting dissertations, etc.
Once firstly logging in, it is crucial for the students to fill in personal data correctly. If you fail to provide correct information, there might be communication issues etc.
Registration for SIS -- register via Central Authentication Service CAS -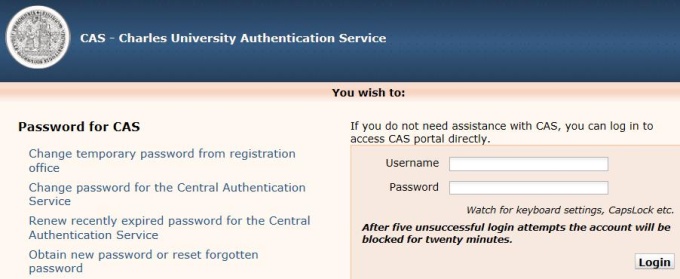 https://is.cuni.cz/studium/login.php
Password
When picking up your university student card, you will be given an initial password generated by the ID Issue Centre. This password is time-limited and needs to be changed by the student within 10 days of the issue of your card. If you fail to change it within this time limit, you will need to pick up a new password in the ID Issue Centre.
Forgotten password
The password can be changed at: https://ldap1.cuni.cz/reset/search/. By providing certain personal information your password can be reset.